Best times to sell a home in San Diego? Due to our fabulous weather, one would think probably year round.. But, actually it all can depend on the season, day, and sometimes even the time of day. There are triggers that can determine what makes a great time to sell a home.
ATTOM Data Solutions, curator of the nation's premier property database and first property data provider of Data-as-a-Service (DaaS), today released a new analysis of the best days of the year to sell a home, which shows that 11 days of the year offer seller premiums of 10 percent or more – eight of which occur in the Summer months of June, while three occur in May.
According to the analysis, home sellers see the hottest premiums as the weather heats up – on average 9.6 percent above market value in June and 8.3 percent above in May. This analysis of more than 33 million single family home and condo sales over the past nine years shows that these two months are when people are the most motivated to buy; therefore if you're considering selling your home soon, start now to increase your chances of a higher seller premium.
"Timing the housing market is far from an exact science. But home sellers who want to get the highest price should aim to complete their deals during the peak house-hunting season in late Spring or early Summer, when the most potential buyers are out looking," said Todd Teta, chief product officer with ATTOM Data Solutions. "This year could be a striking exception if many potential home buyers stay home because of Coronavirus social distancing or worries about job security. But sales price data going back almost a decade shows that transactions completed in May, June and July typically net 7 percent to 10 percent over market value, which amounts to around $17,000 to $25,000 on the typical home nationwide. That's a nice markup compared to other times of the year."
Some Highlights of ATTOM Study:
ATTOM Data Solutions conducted an analysis of more than 29 million single family home and condo sales over the past eight years to determine the top days to list your home for sale.
The top five days to list your home brought in a 10% premium over market value and are all in either May or June!
"Families start their home search when they know their kids will be out of school and when the weather is ideal for home viewing and moving, giving home sellers an upper hand in price negotiations."
There is still time to list your home before these dates pass you by!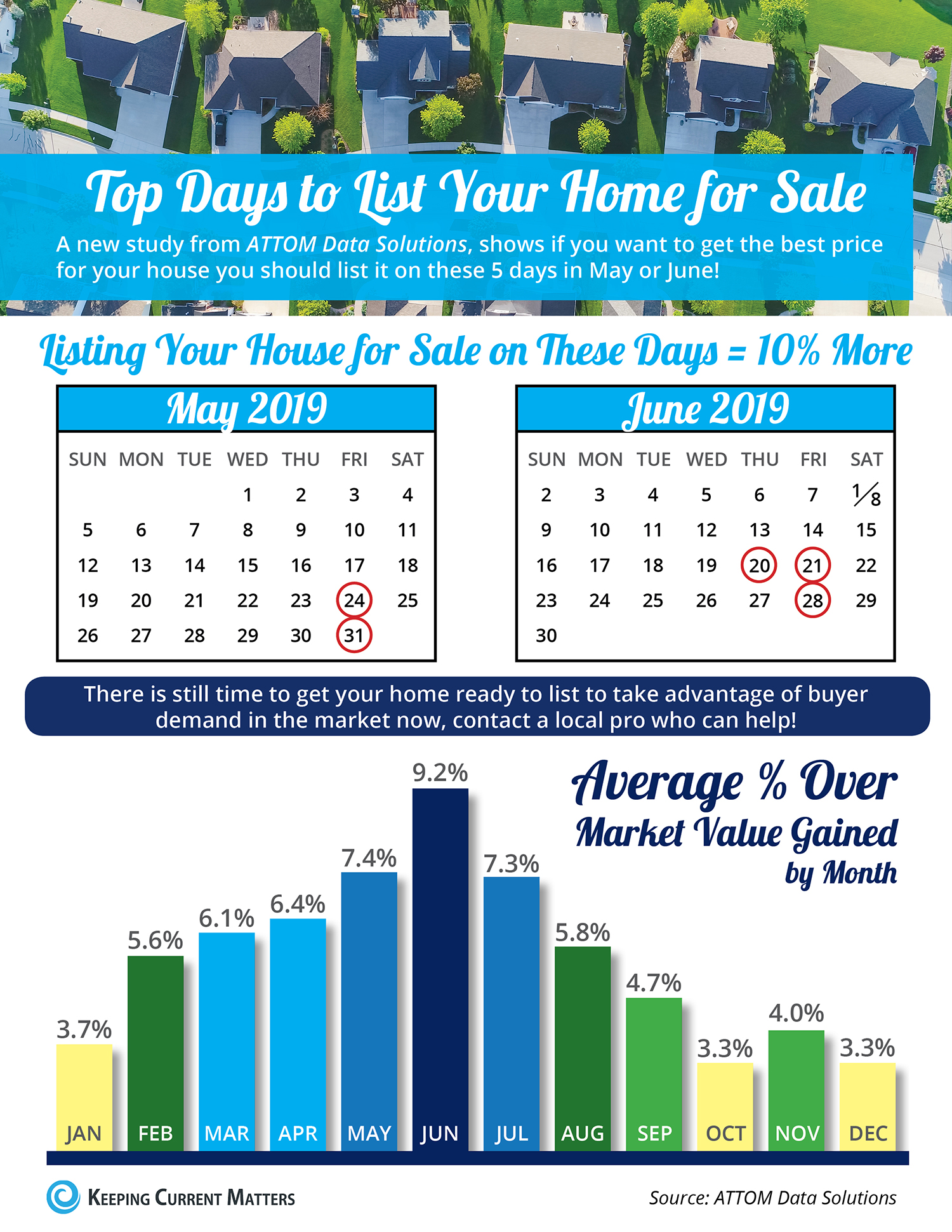 From the Beaches to the Rolling Hills of San Diego County
Excellence that Moves You!
Brad and Karen Mattonen Realtor
DRE: 02062665
TEL: (858) 518-2875
[email protected]
https://homesinsdcounty.com/
https://www.northcountyhomepros.com
You may also be interested in...