ATTOM Data Solutions, curator of the nation's premier property database and first property data provider of Data-as-a-Service (DaaS), today released an analysis of the best days of the year to sell a home, which shows that nine days of the year offer seller premiums of 10 percent or more – eight of which occur in the Summer months, while one occurs the day after Valentine's day.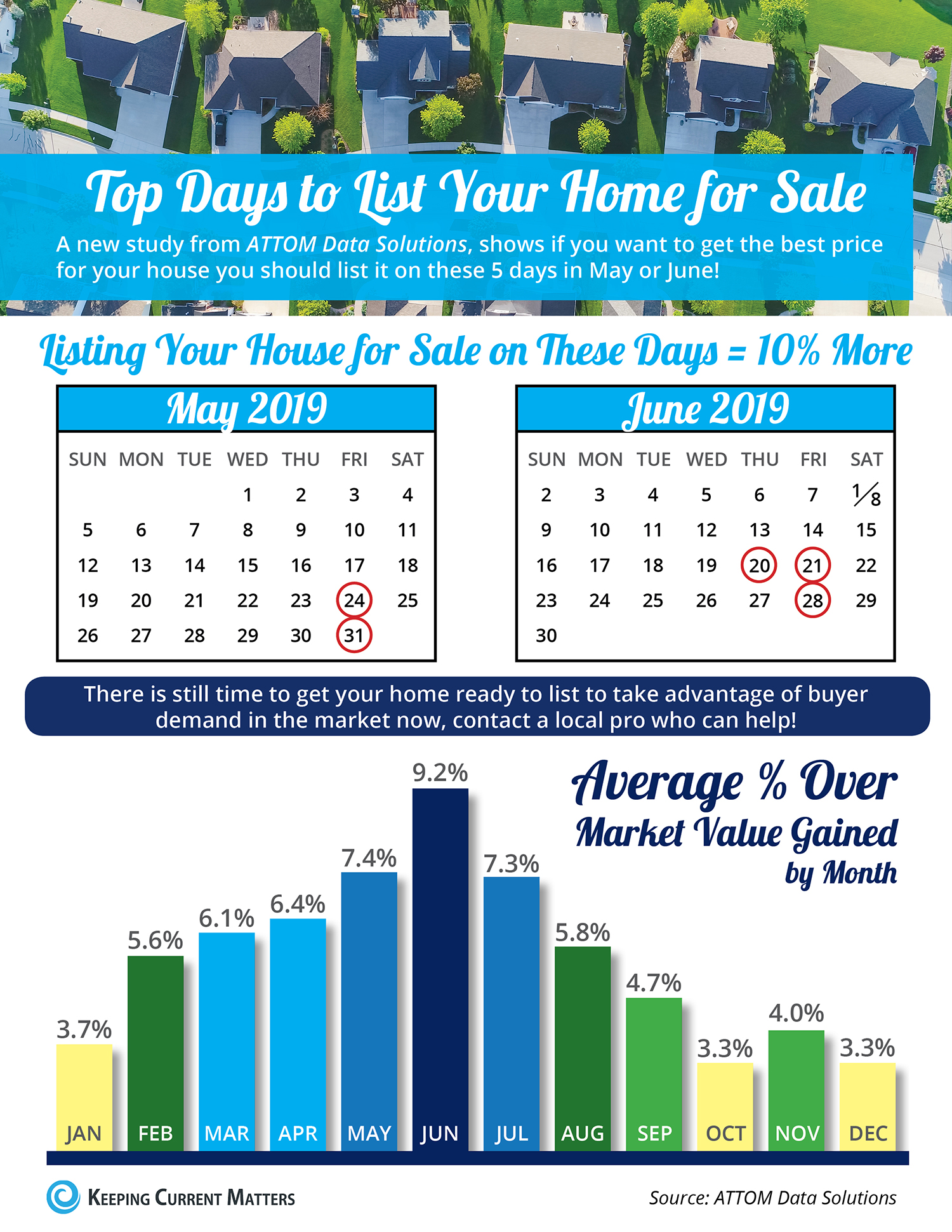 Best Months to Sell
The analysis also took a more high-level look and showcased how seller premiums faired throughout the year and broke it out by month.
The months realizing the greatest seller premiums were as follows: June (9.2 percent); May (7.4 percent); July (7.3 percent); April (6.4 percent); March (6.1 percent); August (5.8 percent); February (5.6 percent); September (4.7 percent); November (4.0 percent); January (3.7 percent); October (3.3 percent); and December (3.3 percent).
Some Highlights:
ATTOM Data Solutions conducted an analysis of more than 29 million single family home and condo sales over the past eight years to determine the top days to list your home for sale.
For this analysis ATTOM Data Solutions looked at any calendar days in the last eight years (2011 to 2018) with at least 10,000 single family home and condo sales. There were 362 days that matched this criteria, with the four exceptions being Jan. 1, July 4, Nov. 11 and Dec. 25. To calculate the premium or discount paid on a given day, ATTOM compared the median sales price for homes with a purchase closing on that day with the median automated valuation model (AVM) for those same homes at the time of sale.
The top five days to list your home brought in a 10% premium over market value and are all in either May or June!
Nationally, the best time to list is May 1 to 15, when homes sell around nine days faster and for nearly 1 percent more than the average listing in Normal Times!
By May, some buyers may be anxious to get settled into a new home— and will be more willing to pay a premium to close the deal
"Families start their home search when they know their kids will be out of school and when the weather is ideal for home viewing and moving, giving home sellers an upper hand in price negotiations."
There is still time to list your home before these dates pass you by!
BEST DAYS TO LIST YOUR HOME FOR SALE IN SAN DIEGO COUNTY
https://homesinsdcounty.com/real-estate-blog/best-days-to-list-your-home-for-sale-in-san-diego-county/
REALVITALIZE – A GAME CHANGER FOR HOME SELLERS
https://homesinsdcounty.com/realvitalize-a-game-changer-for-home-sellers/
SELLING YOUR HOME? HOW TO HIRE THE RIGHT LISTING AGENT
https://homesinsdcounty.com/real-estate-blog/selling-your-home-how-to-hire-the-right-listing-agent/
Homes in San Diego County
Welcome to the go-to online resource for searching for homes in San
Diego San Diego County.
A home is not a home because of its room dimensions or the color of
the walls. It is about how you feel when you walk through the front door, and
the way you can instantly envision your life unfolding there.
This is about more than real estate. It is about your life and your
dreams.
Different by design
We take a different approach to real estate, one that is built on
personal touches, win-win deals and positive results. Karen and Brad Mattonen
utilize the latest technologies, market research and business strategies to
exceed your expectations. More importantly, we listen and that means we find
solutions that are tailored to you.
How we can help
Thanks for starting your real estate search with us. Our website is
full of information for you whether you are looking to buy or sell. After you
have had the chance to review this information, contact us so we can tell you
more about how we can help.
We appreciate the opportunity to earn
your business.
Best Day To Sell Your Home
Home Sales In San Diego
Real Estate In San Diego
List Your Home
Home Sales In San Diego
Top Day To List Your Home
Top Day To List Your Home For Sale
San Diego Real Estate
San Diego North County Homes For Sale
Homes In San Diego County